Popeyes Canada Daily Deals & Specials | 2023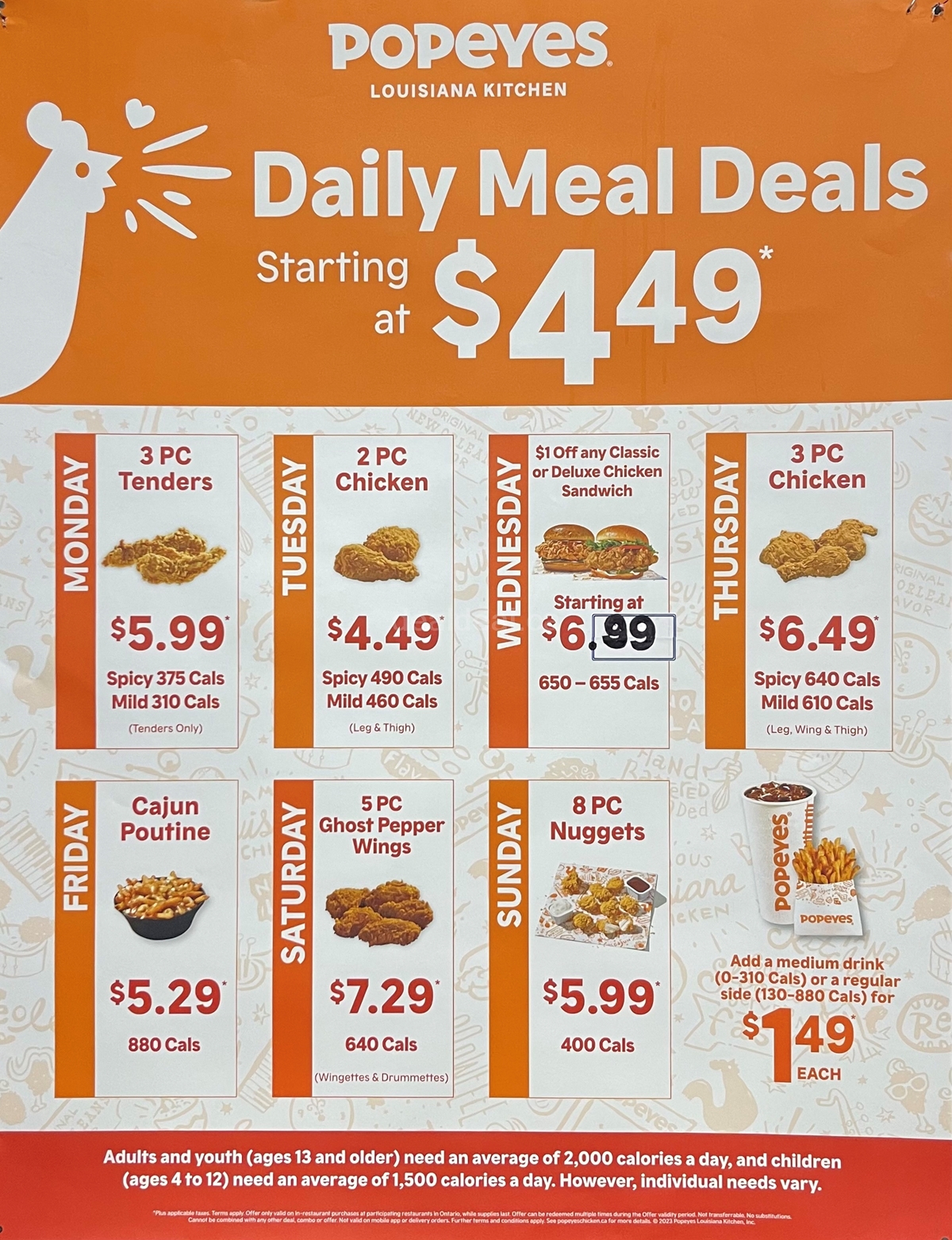 Description
Browse the Popeyes Daily Deals Canada, and find the current Popeyes Specials and Coupons for more savings
Monday
3 PC Tenders (Tenders Only)
$5.99 (Spicy 375 Cals, Mild 310 Cals)
Tuesday 
2 PC Chicken (Leg & Thigh)
$4.49 (Spicy 490 Cals, Mild 460 Cals)
Wednesday
$Off any classic or Deluxe Chicken Sadwich
Starting at $6.99 (650-655 Cals)
Thursday
3 PC Chicken (Leg, Wing and Thigh)
$6.49 (Spicy 640 Cals, Mild 610 Cals)
Friday
Cajun Poutine
$5.29 (880 Cals) 
Saturday
5 Ghost Pepper Wings (Wingettes and Drumettes)
$7.29 (640 Cals)
Sunday
8 PC Nuggets
$5.99 (400 Cals)
- Popeye's Daily Meal Starting at $ 4.49
- Add a medium drink (0-310 Cals) or a regular side (130-880 Cals) for $1.49 each. 
Please Note: Promotions and Discount details on dealdeal.ca are a collection of data from business centers, social media platforms, web portals, or even a direct submission from a business operation. Promotions or discounts may change without prior notice. Please check with the respective companies before visiting or ordering.
* Terms and Conditions May Apply.
* Tax May Be Applicable.
VIEW MORE PROMOTIONS at Popeyes Canada
---